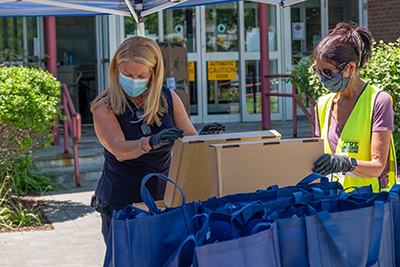 For our community's most vulnerable – our older neighbors and loved ones – the coronavirus poses a double threat. First, there's the obvious issue of severe health complications from the virus itself. The second, more insidious, threat is due to prolonged isolation and the risk associated with visiting public spaces, including grocery stores. At the onset of the pandemic, grocery stores were overwhelmed with requests for delivered goods, and many older adults were unfamiliar with how to place online grocery orders. Some people who rely on SNAP (food stamps) benefits learned that they could not be used for electronic ordering.
In response to these needs, the Southwestern CT Agency on Aging (Agency on Aging) raised nearly $30,000 to implement a grocery distribution project called the Food Connection. The Food Connection enlisted the help of Catamount Foods, a Trumbull-based distributor whose work with the Bridgeport Head Start program came to an abrupt end due to the school closure. There was no income test to receive assistance because everyone involved understood that in these uniquely challenging times, one's ability to physically get to and safely shop in a grocery store or to prepare meals at home without assistance was not determined by income. The response was overwhelming; the funds raised were exhausted within two weeks. The community need was mounting as hundreds of referrals streamed into the Agency on Aging each day.
Funds from the Coronavirus Aide, Relief and Economic Security Act and the Families First Coronavirus Response Act arrived just in time to add another $750,000 to the effort and allowed the program to coordinate the distribution of over 30,000 bags of groceries to 3,400 older adults! An incredible network of community organizations and volunteers committed to delivery and distribution from Greenwich to Stratford. Over the 12-week course of grocery distribution, the food gave older adults the support to remain safe in their homes and gave grocery stores valuable time to add delivery capacity to support older adults.
If nothing changes, current funds for the program will run out in early July.  Community-based organizations, senior centers, housing sites, food pantries and the Agency on Aging will then transition to alternative means to support older adults. While we truly wish the project could have gone on indefinitely, we know that we are in a much better place with alternative shopping hours for seniors and increased capacity in home delivery programs through local grocery stores. We are grateful for the support received from the Fairfield County Community Foundation, Tuft's Health Plan Foundation, the Griswold Foundation, the State Unit on Aging and our Congressional delegation that is making this program possible.
Where can you turn if you or a senior you know is in need of food support?
For those who are economically eligible, SNAP online food purchasing is now available. When activated, enrollees will be able to use SNAP benefits on their EBT card to purchase eligible food items online for delivery or curbside pickup at participating food retailers. More information is available on the

SNAP website

.
Home Delivered meals are available in most communities to older adults rendered homebound due to risk factors associated with the Coronavirus. (These benefits are not income dependent.) Call 800-994-9422 for more information.
Food Pantries are available in most every community, visit the

resource list on our website

to learn more.
You can turn to www.swcaa.org to learn more about food options in your community. Our site includes key contacts in each municipality for assistance. As always, we encourage you to reach out to us if you or a loved one requires assistance navigating the available options. We are here to be a resource for the community we serve.