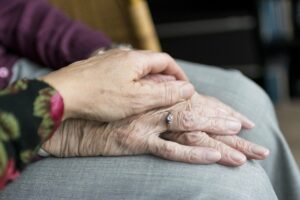 People describe caregiving in many ways. Some people call caregiving an honor and a gift. The one manner in which I have never heard anyone characterize caregiving is: Easy. Add anxiety from a global pandemic that systemically targets the old and frail, and caregiving takes on a frenetic, nerve-wracking quality similar to a long scene in a scary movie that just won't end.
Fear of the virus on the part of the caregiver as well as the care recipient may result in angst that clouds typical sensibilities and strains even the most solid of caregiving relationships. The pandemic has caused some to turn away paid caregivers for fear of cross infection. Adult Day Centers that used to be a bastion of engagement, rest and solace for adult caregivers have been forced to close. With little advance notice, and without a clue of when it will ease up, let alone end, the pandemic turned many a casual caregiver into a full-time caregiver responsible for everything from bill paying to personal care.
In many cases, the COVID-19 pandemic has exposed pre-existing cracks that may have been imperceptible due to caregivers' busy lives and a natural desire on the part of seniors to avoid becoming a burden to their loved ones. It has made some caregivers keenly aware of the challenges their beloved parent faces each day.
What are some warning signs that a parent or friend might be in need of additional assistance? Unpaid bills, expired food in the refrigerator, uncleaned surfaces, general confusion, or changes in hygiene or appearance are all signs that a loved one is struggling. What are some areas that they might need help with? Grocery shopping, accessing healthcare appointments, house cleaning, bathing and managing finances are typical of areas that over time will require ever-increasing effort and can rapidly become unmanageable.
The advice we give caregivers is that you don't have to feel as if you have to face these responsibilities alone. Just as the African proverb claims that it takes a village to raise a child, caregiving often presents a similar need for communal support. If there are multiple siblings, there are ways to find something for everyone to do – even if they aren't geographically nearby. If brother Jack is good with details, give him the checkbook to manage. If sister Sue is uncomfortable with personal care, she can do the shopping. In stressful situations like this, long-held family dynamics might come into play. A skilled elder care manager can help families navigate these waters by convening a family meeting and then offering unbiased recommendations to unify the family's support of their loved one.
Outside of the immediate family, caregiver support groups help find solutions to common challenges while offering fellowship, friendship – and a good dose of humor. Spurred by disruptions due to COVID-19, many support groups have moved online, which makes participating more convenient for busy caregivers.
No matter what level of support you require, Southwestern CT Agency on Aging has a myriad of programs that can provide rest and support for caregivers – and many of these programs are not dependent on income. The need for assistance navigating the complexities of support programs transcends income, education and even level of family support. Call the Agency on Aging at 800-994-9422 for information on financial supports, home care options, assistive technology and for answers to many of the challenges associated with caregiving.